Explore North Coast (ENC) is a sea kayaking club in north coastal California. We live in a beautiful area that offers paddling opportunities galore, and strive to get more people on the water to enjoy this wonderful sport.
---
Our

ENC Wear It Photo Contest Winners



We so appreciate everyone for participating and plan to post everyone's photos in our various newsletters. They were so interesting. Thank you all for participating. We chose Mairead Sardina's image that showed a group having a fun time practicing safe boating techniques with others; and Eric Loudenslager's image of canoeing in beautiful British Columbia with two different styles of life jackets.
A fun day of safe boating training for staff at the Humboldt Bay Aquatic Center in February of 2020. We were just about to start practicing pulling swimmers from the water onto the dock using life jacket straps when laughter broke out as the staff realized the tide was low enough for them to splash mud onto the dock with their jumps.
— Mairead Sardina
Morning on Indian Point Lake, Bowron Lakes Canoe Trail, British Columbia, 2016.
— Eric Loudenslager
---
Humboldt County Life Jacket Loan Stations 2021
Need a life jacket? Humboldt County has life jacket loan stations where you call ahead and see if they have your size available and you can check one out for the day: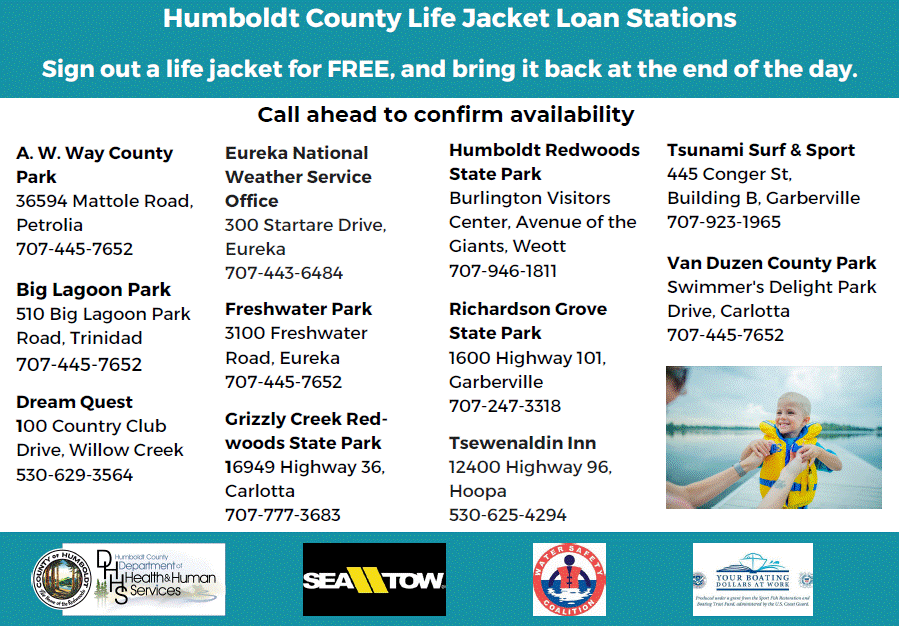 ---
We are starting up our club paddle events!
Please review our guidelines we have adapted during these times:

Paddle events have a limit to 8 people.
Participants will need to RSVP the paddle host.

Participants need to bring a signed

Communicable Disease Waiver

Click here

to review our

COVID-19 Guidelines

that we have adopted during these times.

Also bring a signed

ACA Adult Waiver

or

Minor Waiver

.

There's a $10 fee for ENC Members who do not have an ACA membership.

Check the ENC newsletter and calendar for updated information.
---
What We Offer
PADDLING EVENTS. Organized kayaking events are hosted by experienced members about twice each month, ranging from easy beginner, flat-water paddles, to more difficult surf zone practice. Non-club members are always welcome to join us during a club event for $15 fee that goes towards insurance and supporting Explore North Coast.
INTERESTING PRESENTATIONS. We co-sponsor a Speaker Series with the Humboldt Bay Aquatic Center in Eureka which occurs every other month. Topics relate to our local coastal environment along with club announcements. Everyone is welcome! Check the calendar for meeting dates, location and times.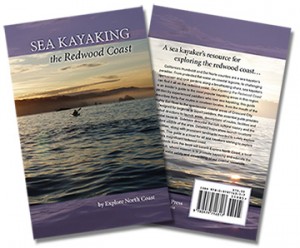 MORE… Check out our gallery, interesting articles and links to paddling resources. We also have our own paddling guide for the north coast. Please read the usual disclaimers in the About Us section.
Feel free to contact us. We live in an incredibly beautiful area that offers diverse sea kayaking opportunities, so get out and paddle.
---
Become a member of ENC
Explore North Coast has Individual Memberships with the option of including the American Canoe Association (ACA) membership. Below lists the difference between including the ACA in your membership or not.
Individual Memberships
ENC Member Only
ENC Member
with ACA

Annual Dues

$15

$55

ENC Club Paddles


$10

$0

Discounts with local businesses*


*subject to change




Yes

Yes

ENC Grants for paddling skills instruction, workshops, and more for members with financial needs.


Yes

Yes

ACA Member Benefits (click to see)


No

Yes
Visit our ENC Membership page to renew or join and to view different payment options. Or to become a NEW MEMBER right away, click on the green button below which will take you to our membership portal page.
---