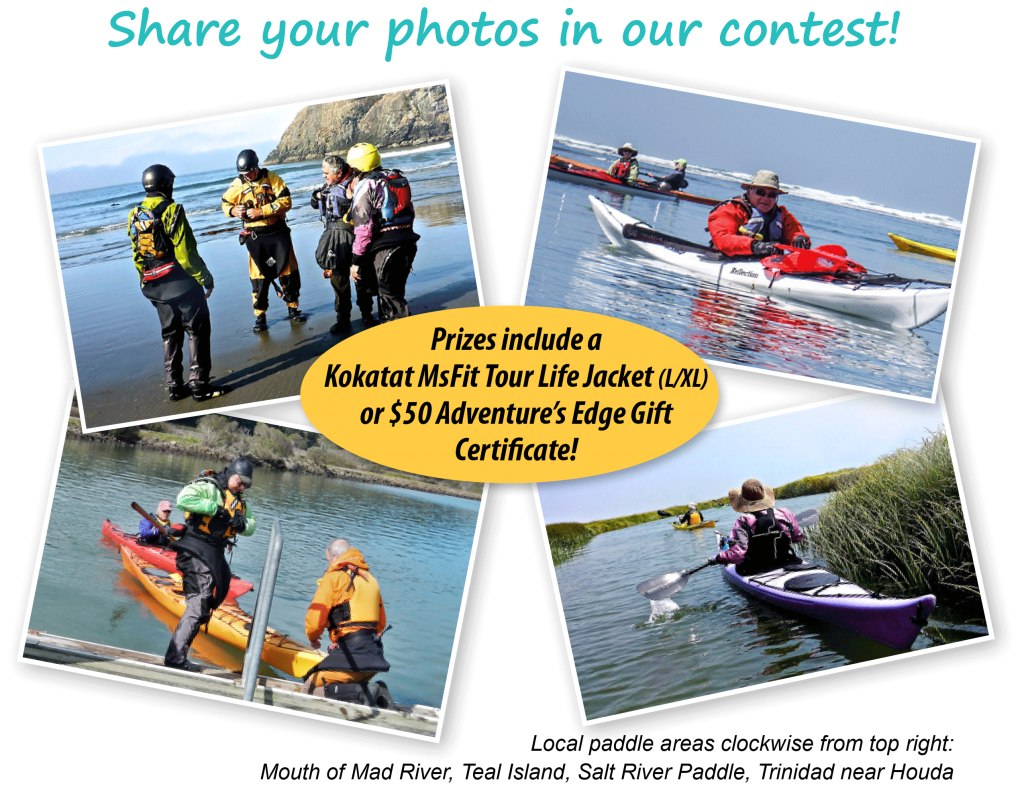 May 22 – June 12, 2021
Guidelines
Who may enter: Must be 18 years or older to enter. Winning entrant must be able to pick up their prize in Arcata, CA. Note: Current board members of Explore North Coast are not eligible to enter and win any of the prizes. The contest is void where prohibited or restricted by law.
Entry period: Explore North Coast (ENC) will accept the first 100 entries. Contest starts on May 22, 2021 until we receive up to 100 entrants or until June 12, 2021, 5 pm.
What to enter:
One photo submission per person.
Photo theme is "Wear It!" — wear your life jacket. We are looking for images that show the practice of wearing a U.S. Coast Guard (USCG) approved, properly worn life jacket.


Some examples are: A fun event that shows people or pets wearing a Coast Guard approved, properly worn life jacket(s) while participating in boating-related activities. (For example, friends getting ready to go kayaking, rafting); Fitting yourself with a life jacket or helping another individual (or a pet) with a life jacket as you prepare to go on the water.
Photos must be original work, taken by the entrant. No third party may own or control any materials the photo contains, and the photo must not infringe upon the trademark, copyright, moral rights, intellectual rights, or rights of privacy of any entity or person.

Accepted file format is JPEG/JPG between 250 KB and 1.5 MB. Image should be clear and at a high enough resolution for screen and smaller print sizes.
No major alterations, distortions, watermarks, aside from cropping and minor corrective adjustments, photo should have
Photo Caption of 1-3 sentences with image.
How to enter: To submit an entry, click on this link or button at the top.
---
Terms / Conditions
Prizes: Two prizes to be awarded are as is: 1) A Kokatat MsFit Tour Life Jacket (choice of L or XL in size) with Sea Kayaking the Redwood Coast; 2) An Explore North Coast small drybag with a $50 Adventure's Edge gift certificate and Sea Kayaking the Redwood Coast. First place winner will get first choice between the two prizes.
Photo usage: By entering the contest, entrants agree that photos submitted can be used by Explore North Coast various media venues such as their website, social media pages, gallery, printed materials, newsletter, and other types of postings.
Judging
All submissions will be reviewed by Explore North Coast (ENC) Photo Contest Committee before being entered into the contest. The ENC board reserves the right to disqualify any entry that is deemed inappropriate, doesn't meet the file requirements, or does not conform to stated guidelines.
Following the photo criteria, that meets the message of "Wear It" theme of life jackets, ENC Photo Contest Committee will choose the two winning images on Monday, June 14, 2021 and announce the winners by June 15, 2021. The first place winner will have first choice between the two prizes. Winners will be contacted by email. If no response is received after three business days, a new winner will be selected and the previous winner will forfeit all rights to the prize.
Submissions: By submitting their photos to this contests, entrants agree that they own the copyright of the photograph and that it is their original work and they have permission to use the visual image of any identifiable individual or building in the photograph for entry into the competition. The image submitted may be published as stipulated in the photo contest rules. Entrants agree that Explore North Coast will not be responsible for the infringement of any third party rights in the photograph, moral or otherwise, that may arise as a result of their actions or omissions and that the entrants indemnify Explore North Coast against all legal fees, claims, damages and other expenses that may be incurred as a result of their breach of the contest rules. Entrants grant reproduction rights for Explore North Coast to use and in doing so agree that Explore North Coast can use their photograph for the purposes of the competition and also for future reproduction on websites and literature and other materials at Explore North Coast's discretion.