As kayakers who venture to offshore rocks and islands, and poke around in nooks and crannies along the coast, it's important to know about Marine Protected Areas.
In 2012, California established a statewide network of Marine Protected Areas (MPAs) to conserve ocean resources. The network protects 16% of California's coastal waters, provides a series of refuges for ocean creatures to recover and thrive, and gives people countless recreational opportunities. Click here for brochures, fishing guides with maps and regulations for the MPAs.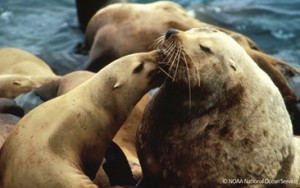 Most importantly, some offshore rocks and islands, such as Castle Rock near Crescent City, have been designated "Special Closures" to prevent any disturbance to the species that occupy these features. Generally, fishing and boating activities are prohibited within 300 feet of a Special Closure. Click here for a complete list of North Coast MPAs and Special Closures, including maps and restrictions.
Let's be good stewards of this incredible coast.