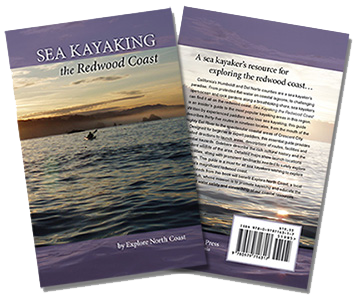 Sea Kayaking the Redwood Coast is a full color guide that describes thirty-five routes in nineteen locales, from the mouth of the mighty Eel River to the spectacular coastal areas of Crescent City. California's Humboldt and Del Norte counties are a sea kayaker's paradise. From protected flat-water coastal lagoons, to challenging open ocean and rock gardens along breathtaking shores, sea kayakers can find it all on the redwood coast.
Designed for beginner to expert paddlers, this essential guide provides detailed directions to launch areas, descriptions of routes, facilities and potential hazards. Sidebars describe the rich cultural history and the abundant wildlife of the area. Detailed maps show launch locations and facilities, along with prominent landmarks needed to safely explore the region. This guide is a must for all sea kayakers wishing to explore California's magnificent redwood coast. Click on the thumbnails below to see a preview of what areas are covered.
"Northern California's coastline is one of the world's best sea kayaking locations. The diverse paddling conditions, a good balance of remoteness and accessibility make for real adventure sea kayaking. The stunning scenery and fascinating wildlife ensure a rewarding experience. The great advice contained in this guide will make your journey more enjoyable and safer. Whenever you go to a new area, you should always get advice from local paddlers. Well here it is!"

— Sean Morley, President, California Paddlesports Council; Founding Director, Golden Gate Sea Kayak Symposium
---
Only $14.95 (plus shipping). Order yours now!
Mail in Order form (PDF | Word)
Proceeds from this book benefit Explore North Coast.