Marine Protected Areas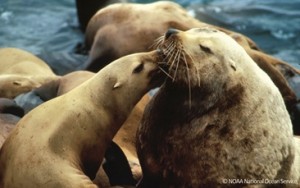 As kayakers who venture to offshore rocks and islands, and poke around in nooks and crannies along the coast, it's important to know about Marine Protected Areas.
In 2012, California established a statewide network of Marine Protected Areas (MPAs) to conserve ocean resources. The network protects 16% of California's coastal waters, provides a series of refuges for ocean creatures to recover and thrive, and gives people countless recreational opportunities. Click here for brochures, fishing guides with maps and regulations for the MPAs.
Most importantly, some offshore rocks and islands, such as Castle Rock near Crescent City, have been designated "Special Closures" to prevent any disturbance to the species that occupy these features. Generally, fishing and boating activities are prohibited within 300 feet of a Special Closure. Click here for a complete list of North Coast MPAs and Special Closures, including maps and restrictions.
Let's be good stewards of this incredible coast.
---
Favorite Places
There are many incredible places to paddle in Humboldt and Del Norte Counties. The ones briefly mentioned here are just a sample. For a complete and detailed description of the kayaking opportunities found in our bays, estuaries, lagoons, rivers and ocean, check out Sea Kayaking the Redwood Coast, the sea kayaking paddle guide written by members of Explore North Coast.
CRESCENT CITY — Crescent City has many great paddling opportunities. South Beach is one of the premiere surf spots in our region. If the surf is too nasty, launch from Whaler Island and paddle in the harbor and/or the offshore rocks, possibly as far north as Battery Point lighthouse, or beyond.
HUMBOLDT LAGOONS — There are a series of breathtaking coastal lagoons in Humboldt County. Our favorites are Stone Lagoon and Big Lagoon. Stone Lagoon is about two miles south of Orick and about 12 miles north of Trinidad. The launch is generally from Kayak Zak's location at the old Visitor Center at mile marker 115.3 on Hwy. 101.
Ryan's Cove, along the southwestern shore of Stone Lagoon, is a hidden paradise with boat-in camping and six primitive campsites. Part of the California State Parks, it's a wonderful place for a fun-filled family retreat.
At Big Lagoon, the launch is from Big Lagoon County Park, located about seven miles north of Trinidad. From Hwy. 101, turn west onto Big Lagoon County Park Road and follow the signs to the day use area.
TRINIDAD — Trinidad is one of the premier paddle locations along the north coast. Launch points include State Beach, if conditions allow, or Indian Beach. Take the Trinidad exit (exit 728) off Hwy. 101.
The Indian Beach launch site is at the far end of the paved lot. After unloading your boat and gear, park your vehicle in the sandy parking lot by State Beach so that customer parking for the Seascape Restaurant is not impacted.
MAD RIVER SLOUGH — Mad River Slough meanders north for about five miles from the northwest border of Humboldt Bay. It's part of the Humboldt Bay National Wildlife Refuge and a fascinating place to paddle. Ride the flood tide into the slough about two hours before high tide, explore the area and then ride the ebb back to the launch. From Arcata and the Arcata/Samoa Blvd. exit (exit 713) from Hwy. 101, head west on Samoa Blvd. (Hwy. 255) for 3.7 miles. Cross over the Mad River Slough Bridge and park on the right side of the road. From Eureka, head west on Hwy. 255 across the Samoa Bride to the stop sign at Samoa Boulevard/New Navy Base Rd. Turn right and travel about 3.1 miles. Do not block the driveway of the lumber mill. A gravel ramp leads to the water.
Click here for links to North Coast maps.